Sick of being sick. Everybody is sick, and it keeps lingering and coughing and snotting and tireding and just ugh. I've had about 10 cold-free days since late October and whinge whinge snivel complain.
Furthermore, my thinks to do list looks like this:
Thinks to do:
- ALL THE THINKS
*ded*
(x-posted from The Essential Kit)
The story I'm working on is set in July and August, but I couldn't resist putting up some Christmas lights.
Current Mood:

cheerful


Wind Raker is almost finished! We have just the final big magic scene and the wrap up left. We should be ready to go to edits in the next couple of weeks.

We don't have a publication date yet, but I am guessing the end of the summer/beginning of fall since Silver Bullet is out in February.

The best thing! Such a hard question. I love this book's guest stars -- Beatrice and George. I love that Jerry finally has a new relationship and he's a really interesting guy. I love seeing the team challenged by something they never anticipated. Most of all, I love the plot with the ongoing villain revealing itself in its full, utterly scary glory! I've thought about posting the scene that gives everyone who reads it the willies, but I can't because it's spoilery for Silver Bullet. So I'll have to wait to share that until after Silver Bullet comes out. I think it's my favorite scene in the book. It's seriously scary, despite nothing happening more than two people talking.

I hope that Bob Eggleton will do the cover. He's done such wonderful covers for the first three.

And after Wind Raker, the next is Oath Bound, which I've been looking forward to tremendously. Jerry goes to Alexandria! On a dig! Y'all know how I love Alexandria, and Jerry is after the big prize -- Alexander's tomb!
A reader asks, "How's the new (Order of the Air) book coming? When will it be out? What's the best thing about it?"
MaybeBook
yesterday.
First, I realised that I've been missing an element important to the mood I want to create, and that element (pun intended) is the appropriate weather. The idea for the story arrived complete with the time of year it's set, but the weather at that time of year doesn't particularly necessitate the right atmospheric weather. This was a problem, as the time of year isn't really moveable for other reasons. Then, like Tom being wanged over the head with a saucepan by Jerry, it hit me. River mist! Hurrah!
And the other thing I was pondering yesterday is the fact that three strands of my plot involve either reconciling, or solving the mystery of, events that took place in the past, and which have relevance to the current situation. This raised the thorny issue of how to deal with a story in which significant amounts of backstory will be necessary. And then, as if the interwebs were reading my mind,
this
was posted on
The Writer Unboxed
. It's given me all sorts of interesting food for thought (you have to read past the introductory waffle in the first paragraphs before you get onto the issue at hand, i.e. backstory, and the pitfalls, perils and possiblities thereof. (Love me some alliteration!)
So, much writerly thinking of thoughts at the moment.
Hmmm, so I had a couple of thoughts about
http://feedproxy.google.com/~r/wondermark/~3/XwhCNs25-w0/
http://wondermark.com/?p=10078
I have some new holiday cards for you! The line of Wondermark greeting cards — Monocle Poppers™ — are always popular around this time of year, and I'm pleased to share these 2014 DEBUT DESIGNS:
"Mad Night"
"Antlers"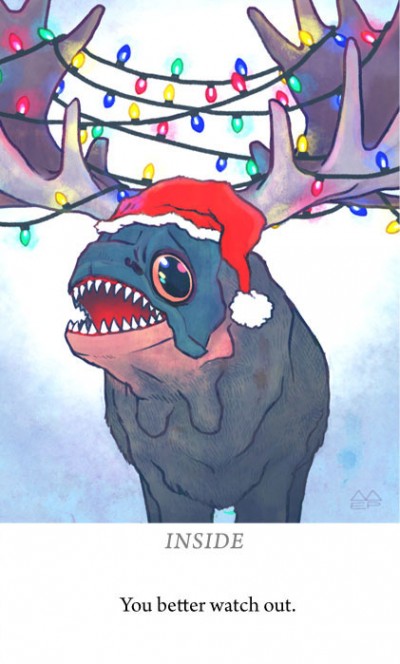 The design above is by the wonderfully talented Emily Partridge! Emily gave me this design last year and told me I could do what I wanted with it, and what I want to do is pay her a royalty on these cards. Because they're super great and I like 'em!
These and dozens of other card designs are available for you to order right now, if you like!
The 2014 Wondermark Calendar
Is available now for pre-order! Its title is:
Roll-A-Sketch Yearbook: 2014 Graduating Class
A Record; A Reminiscence; A Catalog; A Chronicle; An Indictment; A Regret; A Cautionary Tale For All Time of The Grand Experiment & Mistake.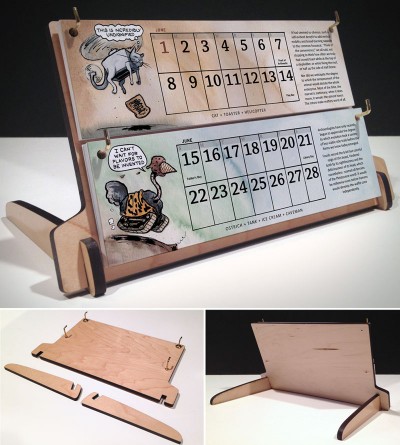 LIKE EVERY YEAR SINCE 2008 — it is available in strictly limited edition only, each piece individually signed and numbered.
LIKE EVERY YEAR SINCE 2009 — you can get the calendar with display apparatus included, or just the cards themselves, if you want to reuse the stand from last year.
LIKE LAST YEAR — this is a biweekly progressive calendar, meaning rather than being broken into months, it's broken into 14-day chunks, and no matter what day of the month it is, you can always see at least two weeks ahead. (More on the unique design in these posts from last year: Part 1 / Part 2 / Part 3)
LIKE LAST YEAR — The art is created by me, and beautifully watercolored by my friend Max Loren Shepard!
New For This Year
The art on the calendar is Roll-a-Sketch drawings, with added biographical information about each strange creature! The art is all mine, and the color is by Max.
Last year, we ordered wooden backboards cut to size and then had to spend a bunch of time sanding and drilling holes in every single board. This year, however, I've made the acquaintance of a man with a laser cutter! (Seen here working on the deluxe editions of the Machine of Death game.)
The backboards available this year are custom laser-cut wood, with integrated easel legs, manufactured to order by my new best friend, Jason Lioi of Dapper Devil. The separate metal easel is no longer required; this backboard comes in three pieces and can stand on its own once assembled (which takes all of two seconds).
Of course, the cards themselves are fully backwards compatible with last year's stands.
In addition, I am offering — as an exclusive bonus with the calendars — a brand new book, called Horrid Little Stories: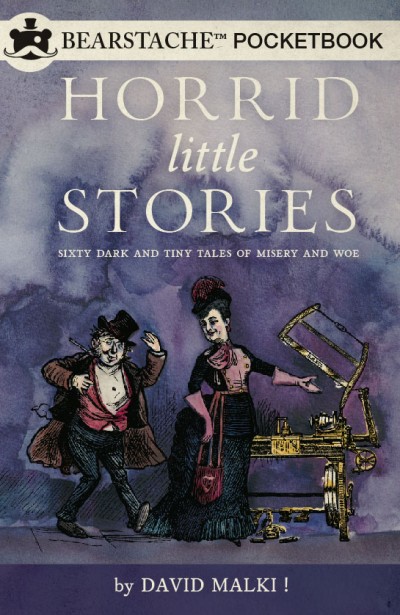 Horrid Little Stories collects all the calendar content (art and text both — not the grids, though, because who cares) from the 2008-2012 Wondermark calendars. Sixty grim little tales in all! (Max painted the cover to this one too.)
The book is available as an option with the calendar, if you like! All copies of the book that ship with the calendar will be signed by me. For the moment, this particular book is only available here, now, with the calendar.
OH YES AND THIS IS ALSO IMPORTANT
I still have all of last year's original paintings from the Gaxian Almanac. They look like this: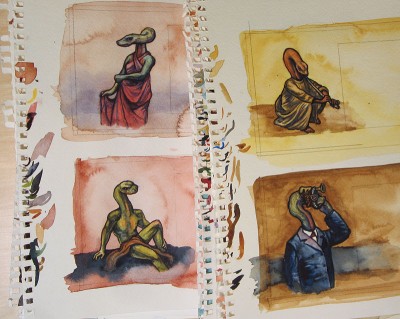 They're super wonderful pieces of art — my halfway-okay pencil drawings were really enlivened by Max's beautiful paintings!
So this year, I'm offering the ultra-limited ART COLLECTOR BUNDLE, which gets you the new 2014 calendar, the Horrid Little Stories book, and one of these pieces of original art, matted with that card's text from last year's calendar, and signed by me and Max.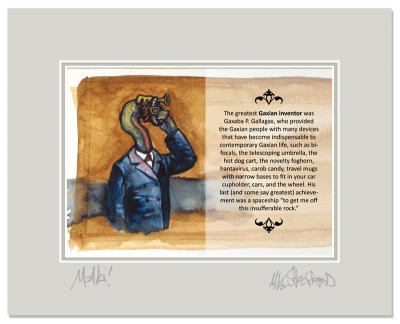 The overall matted pieces are 8×10″. Only 29 Art Collector Bundles are available! And only 250 calendars overall are available!
This is a PRE-ORDER. The calendars, books, and original art will ship by December 18.
(If you order greeting cards and a calendar both, unless you specify otherwise I will ship you the cards right away, then follow up with the calendar later in a separate shipment.)
THE 2014 WONDERMARK CALENDAR: AVAILABLE NOW.
Enliven your life in 2014 with 27 fortnights of Wondermark and Roll-a-Sketch!!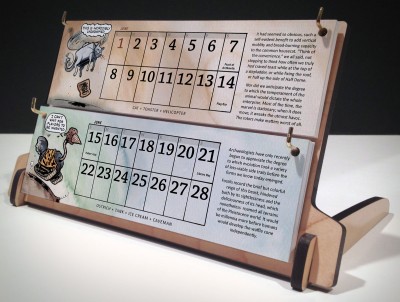 Originally published at Jaime Lee Moyer. You can comment here or there.
Bits and pieces of me, flung into the dark of night…
1. A week or so ago, I turned in the third Gabe and Delia book, Against A Brightening Sky. This is what they call one of those bittersweet moments. I've lived with these characters since 2009. Saying goodbye and getting them to vacate my head is hard. Really hard.
And how do I put this? I know I'm biased, but I felt that each book in this series got better than the one before. They are all good books, but the third book may be the best of them all.
2. I've been thinking, a lot, about a line from an article I read that included the line "You can be a feminist and still want to fall in love."
That struck such a cord for me.
There is a constant undercurrent of criticism that boils down to a strong female character can't fall in love or engage in anything resembling a healthy romantic relationship, mostly because doing so renders that character "weak". We all know weak characters are the downfall and ruination of any book, right?
What is truly interesting about this is that the exact polar opposite kind of criticism also exists. Any female character who is able to fully function and get on with her life, with or without a man, is one of those women. Oh, and a woman who doesn't need a man to make decisions for her or tell her which side to part her hair on is also a tired old trope.
So to sum up, women who fall in love and have relationships are weak, and women who are autonomous, in or outside of a relationship, aren't strong, they are a tired, over used cliche.
The most interesting part of this dichotomy, for me at least, is that when I see this comment, it is almost always directed at women authors. Like 99 out of a 100 times.
Wow. How did we get to that state of affairs? I really wish I knew.
I'm not the only one to make this observation. I might be the only one silly enough to say so outside of a tweet.
3. Long time readers may remember the novel formerly known as Reasons. Josh and Lori have been patiently waiting their turn, and waiting for me to be skilled enough to do their story justice.
After years of sitting in the back of my head while I wrote Gabe and Delia books, the novel has a real name–A War For Philadelphia (book 1&2). It has a coherent plot, a story arc, and lots of complications.
It is, however, still the Rocks Fall, Everybody Dies novel. That isn't changing.
When I wrote the original draft of Reasons I did over 103k in five months. That was kind of boggling at the time, and still dazzles me. This book wanted to be written almost faster than I could write. The major problem is that there was two books worth of story crammed into that 103k.
So I'm starting from the top and, with luck, doing this story justice. Expect snippets now and then. I like posting darlings.
Now to bed, perchance not to have stress dreams about work. I'd like that.
• What are you currently reading?
SO MANY THINGS.
Just going by my bookmarks... *deep breath* The Passion of the Purple Plumeria by Lauren Willig, The Women's Room by Marilyn French, Selected Poems of Anne Sexton, Dante's Purgatorio, Dreaming of You by Lisa Kleypas, The Tenant of Wildfell Hall by Anne Bronte, The Borgias by GJ Meyer, The Book That Changed My Life, Princess of Glass by Jessica Day George, Catching Fire, Isabel Allende's House of the Spirits, The Stranger Beside Me by Ann Rule, Fingersmith by Sarah Waters, Possession by A.S. Byatt, Native Tongue by Suzette Haden Elgin, Stephanie Burgis's Kat, Incorrigable for the nth time, and Alanna: The First Adventure, also for the nth time. Because fuck yeah Alanna.
Seventeen books at a time is somewhat unusual for me, I promise. Usually it's more like five.
• What did you recently finish reading?
Sonnets from the Portuguese. I love Elizabeth Barrett Browning, and I really love her relationship with her husband-- they both were really gone over each other, with Robert Browning in particular being a TOTAL RIDICULOUS FANGIRL over everything his wife wrote. Everything. Even before they married. Even before they
met.
He essentially married his literary idol. Seriously, though, the sonnets are lovely and very sweet. I just read through all forty-five of them in one or two sittings.
Dante's Inferno. THIS SHIT IS HILARIOUS, GUYS. I mean, yeah, like 60% of it is really creative description of horrific torments and terrors, but the rest of it is 30% Dante and Virgil fanboying over each other, 9% Dante smack-talking literally everyone in Italy who is not him (including someone implied to be a member of his immediate family), and 1% sinners flipping God the bird.
Well, Dante called it "the fig." But we all know what he meant.
Heavy Words Lightly Thrown, by Chris Roberts. Eh. It's a fun read mostly, and pretty educational as to the history behind various rhymes (I had no idea Jack Horner was related to Henry VIII's dissolution of the monasteries, for example). However, the author uses (and misdefines!) a hideously unnecessary transphobic slur when discussing "William and Mary, George and Anne," and there's some gross fat-shaming in "Georgie Porgie." So, basically, entertaining book, but I'd get it out of the library, and if you're sensitive to either, skip the two mentioned chapters.
Seriously, the transphobic slur wasn't even necessary, he just threw it in there offhand.
Gross.
The Heroine's Bookshelf, by Erin Blakemore. This was... okay? I'd read 11 of 12 of the books Blakemore mentions, and I don't agree with all of her conclusions. Still, it's a fun little literary criticism read, if you're interested in that kind of thing.
• What do you think you'll read next?
Oh, God only knows. In the Hand of the Goddess for sure, and Renegade Magic. Probably Princess of Silver and Affinity by Sarah Waters as well. Apart from that... who knows? So many books, so little time.
This entry is crossposted at
http://bookblather.dreamwidth.org/227919.html
. Please comment over there if possible.
It's stillll not Thursdaaaaay....
Requester yifu asked "Favorite type of superpowers?"
The question here being favorite type of superpowers to have, or favorite type of superpowers general? It's cool, I'll answer both.
My favorite type of superpowers in general is the ability to see the future. I mean, think of the stories! Imagine being able to see the future but not being able to change it in any way. If you know what's going to happen, you're never going to be surprised, but also helpless. How would you come to believe you couldn't change the future? What would make you try anyway?
And what if you see only snippets of the future? Or only a possible future? How would you live your life knowing that? Would you try to avert the bits you saw? Would you try to bring them about? Would you do nothing, believing you can't affect it? SO MANY STORIES YOU GUYS OMG. I love future-seeing powers.
THAT SAID I would legitimately never want those powers ever. They're frustrating and painful and very likely to drag you into an upsetting story where lots of people die and you know about it and can't stop it. I do not want to live that. I'd much rather be able to teleport, because then I could see all you lovely people and move painlessly and work anywhere in the world and still sleep in my own bed at night.
Plus I could go all the places in the world that I want to go without having to take planes. I hate flying so much for someone who actually likes to go to new places.
This entry is crossposted at
http://bookblather.dreamwidth.org/227656.html
. Please comment over there if possible.
It's stillll the fourrrrrth...


I've been working in Scrivener for a few months,now, ever since my friend Karen Traviss recommended it as a useful tool for writers. It doesn't help the creativity, but it does help you to organise what you write and to revise it and tease out separate threads for revision purposes.

I've grasped enough to use it, but Mr Hewson pointed out some of the features I'd missed and I've already put some of his ideas into use.

If at times this book seems a little Mac-centric, it's because there are features for the Mac version of Scrivener which have not made it as far as the PC platform yet.:
An excellent clear guide to using Scrivener to write a novel. Scrivener is one of those programmes with so many possibilities that you could spend weeks learning it from top to toe, or you could just take a day or so to grasp its main features and wade in, learning as you go. Most fiction writers will never need the full range of Scrivener's facilities, so the learn-as-you-go method makes sense and this book is a tremendous help.
This was originally a Facebook challenge, but here are the rules for anyone else who might want to try their hand at it.
Rules: Don't take too long to think about it. 15 books you've read that will always stick with you. First 15 you can recall in no more than 15 minutes.


John Wyndham: The Day of the Triffids


C. S. Lewis: The Horse and His Boy


Peter O'Donnell: Modesty Blaise


Lois McMaster Bujold: The Curse of Chalion


Joe Abercrombie: The First Law Trilogy


Monica Edwards: Storm Ahead (and all her Romney Marsh books)


Andre Norton: Year of the Unicorn (amongst other Witch World books)


Wilbur Smith: Eagle in the Sky


Eric Linklater: Wind on the Moon


Ursula LeGuin: A Wizard of Earthsea (original trilogy, not the later ones)


Lois McMaster Bujold: Warrior's Apprentice (and all the Vorkosiverse novels)


Rosemary Sutcliffe: Eagle of the Ninth


George R. R. Martin: A Game of Thrones


Terry Pratchett: Night Watch


Diana Wynne Jones: Deep Secrets


Some selected because they are books that won't get out of my head and others because I read them at a particular time of my life when they held relevance.