http://feedproxy.google.com/~r/Torcom/Frontpage_Partial/~3/NN-yrQnAOdM/morning-roundup-kirk-came-in-that-thing-hes-braver-than-we-thought
http://www.tor.com/blogs/2013/05/morning-roundup-kirk-came-in-that-thing-hes-braver-than-we-thought
It looks like J.J. Abrams has given Chris Pine a new ride and he promises she won't get a scratch, but we really, really doubt it. Though the likelihood of him blasting some sweet beats while flying the Falcon are pretty high.
Your collection of daily offsite links includes a Robo-statue, more Star Trek/Star Wars collision, an impending Halloween treat and more!
[Read more]
http://feedproxy.google.com/~r/Torcom/Frontpage_Partial/~3/kfVmyqeZCGw/one-hell-of-a-week
http://www.tor.com/blogs/2013/05/one-hell-of-a-week
Welcome back to the British Genre Fiction Focus, Tor.com's weekly column dedicated to news and new releases from the United Kingdom's thriving speculative fiction industry.
It's been another weird year, weather-wise. But with the sun in the skies, and temperatures on the rise, it might just be that summer... is coming.
To celebrate—because any old excuse will do, in truth—a special heated edition of the British Genre Fiction Focus, featuring an inferno, a literary sweatshop of sorts, the back of a very angry man, and an account of the passionate (to put it politely) reaction to Charlaine Harris' last Sookie Stackhouse book.
This week's new releases are rather less fiery, I'm afraid, with publishers everywhere making way for Dan Brown's new novel. But nothing stops the Elves, evidently! And as an antidote to Inferno, why not try the third volume of The Dagger and the Coin by genre giant Daniel Abraham?
Let's get this roast on the road!
[Read more]

Total words: 31025
Files: 5
Music: Brandenburg Concertos
Tea: Pu Erh
RSI: not telling you. This is supposed to be useful for me, not to make other peole fuss. Deleting this line hereafter.
Reason for stopping: end of bit.

Does anyone know if there have been any translations of The Republic or Plato generally that aren't by Christians and people so entirely embedded in a Chistian worldview that they want to reconcile Plato with it?

I've got myself into the same stupid tangle I always get into when I write out of order. You know the answer to this? Don't write out of order! But I wasn't sure I needed this POV. But I do. Hubris book! Now with three great POVs.
Words: 1820
To quote myself, being too harried to say something new: "These posts are labeled with the month and year, in case somebody eventually gets the crazy urge to timeline my work cycles (it'll probably be me). Behold the proof that I don't actually sleep; I just whimper and keep writing."
Please note that all books currently in print are off the list, as are those that have been turned in but not yet printed (
Parasite
,
Chimes at Midnight
). The cut-tag is here to stay, because no matter what I do, it seems like this list just keeps on getting longer. But that's okay, because at least it means I'm never actively bored. I have horror movies and terrible things from the swamp to keep me company.
Not everything on this list has been sold. I will not discuss the sale status of anything which has not been publicly announced. If you can't remember whether I've announced something, check the relevant tag, or go to my website, at www.seananmcguire.com. Please do not ask why project X is no longer on the list. I will not answer you.
(
What's Seanan working on now? Click to find out!
Collapse
)
So it's May 15th, and I'm two sleeps away from hopping onto a plane bound for Orlando, Florida, which means I'm scrambling a little to get everything positioned, polished, and ready to go. And because it's the middle of the month, it's time for the post in which I tell you what I'm working on, and you finally understand why I don't have time for tea.
Current Mood:

busy

Current Music:

Taylor Swift, "Better Than Revenge."
Snoops!
Bear with me – I just need somewhere to make a note of this so I can check back on it for my own sanity.
MS now stands at 94,977 words including edits thus far. It started at 88k. I've edited 151 pages out of 314 pages. That equates to 46,347 words out of 94,977 words. Hoping that final count of ms will be around 100k+.
Mirrored from Liz de Jager.
We were never close enough to actually see our governor sign the bill into law, but we could hear his less-than-rousing-but-still-wildly-cheer
ed speech. Poor Governor Dayton, he's just not a spit fire. He's got such a good heart, but he always looks and sounds like such a sad sack.
Anyway, Mason did what he does at any major historical event:
I think in the future, when his children (if he has any) ask him, "Papa, where were you when...?" Mason will have to scratch his chin and say, "Oh, I was there. I remember, because I was reading XX by X." They'll say, "What was it like, Papa?" And, he'll have to shrug and say, "Oh, it's a great book...." but have NO OTHER MEMORY OF THE ENTIRE HISTORICAL MOMENT.
But, honestly, the actual memories are: it was stupid hot. There were too many bodies all pressed together. Oh, and ima got a little misty-eyed when the bill was actually signed.
And, then, I should tell you all, I had the first dream of my entire twenty-eight some years with Shawn of CHEATING ON HER. I think that probably the idea of marriage has utterly freaked out my subconscious, and I'm now trying to break up with her on the astral plane.
(Republican secret agenda: freak out long-term GBLT couples.)
Yesterday, despite the WTF 90 degree tempuratures, Mason and I braved the crowds at the capitol to witness history in the making. Shawn was home for the afternoon, having come with us to Como Zoo earlier, but as she's such an extreme introvert that she faints in large crowds, she stayed home. Good call, I think, because it was REALLY crowded.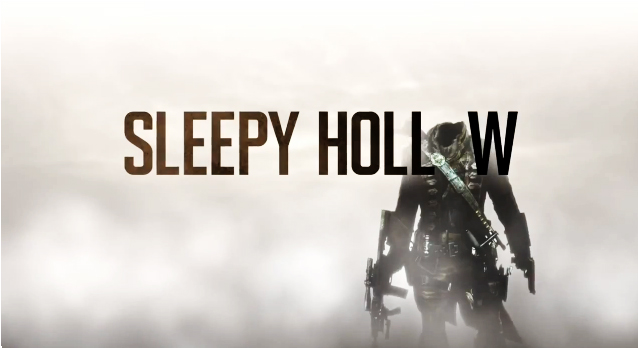 If you gave a 7th-grader a pan of cupcakes during American History, and he fell asleep during a Law and Order marathon while his siblings watched Charmed upstairs and his parents chatted about the historical intricacies of Anno 1790, and then he wrote down his dream and got a magical wish granted by a TV wizard, you'd have this show.
And it's JJ Abrams, so, yes!
But this beautiful trainwreck doesn't stop there. In fact, it doesn't even start there!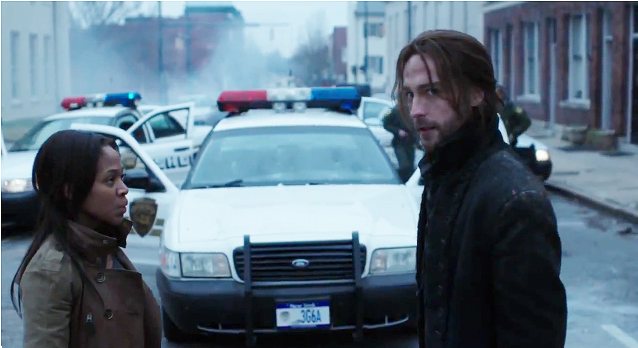 It starts with some actual draws in its stars, Nicole Beharie (Deserves Better Than Michael Fassbender woman, from Shame) and Tom Mison (Has Been Paying His Dues in Poirot Episodes and Supporting Parts in Miniseries So You've Probably Seen Him guy, from the UK). If it looks like she wants to murder him, that's probably about right.
They are both good, which is handy, since they're principally responsible for carrying the premise that Ichabod Crane has been raised from the dead as part of a mystical pact to stop the Four Horsemen of the Apocalypse, starting with the Headless Horseman and proceeding with what we can all assume is one additional Horseman per season, because Abrams is spectacularly handwavey but he'll make sure that a premise that can barely support an '80s B-comedy has a four-season gimmick. (That comedy would be Oh, Ichabod!, and star David Warner and Geena Davis.)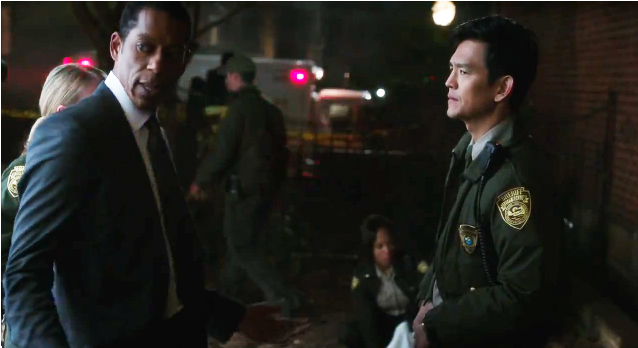 Joining them are Orlando Jones and John Cho, which is fun! (A friend asked me how Cho was being incorporated into the show; unaware she hadn't seen the trailer and thinking she was messing with me, I said he was either a cop or, in a twist, a stripper pretending he was a cop. His confused face here supports either theory. However, if it really was the second thing it would be the premise of an entire show on USA called Bare-ly Legal, where he's a hardworking single-dad stripper who always gets roped into solving crimes by people who assume he's an officer of the law and has an on-again-off-again relationship with a lady DA, and I would watch it every day of the week.)
Orlando Jones is the police chief! He's tired of all these murders in his tiny town! I bet he's going to be writing someone up about it and reminding everyone a lot about how in Sleepy Hollow they do things by the book. But can he be trusted? As our lead cop voiceovers, "I don't know who to trust," he gives us this face into an empty room: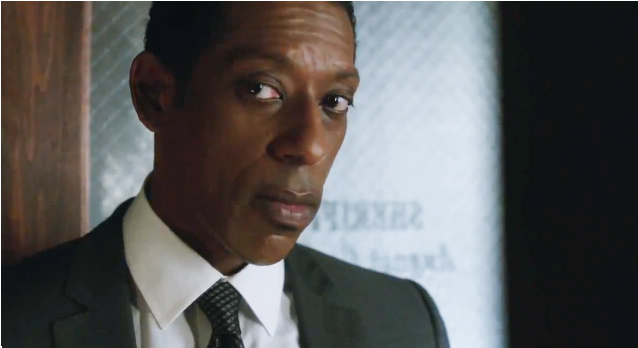 Hmm, that COULD mean anything! I guess we don't know if we can trust him! It's hard to say.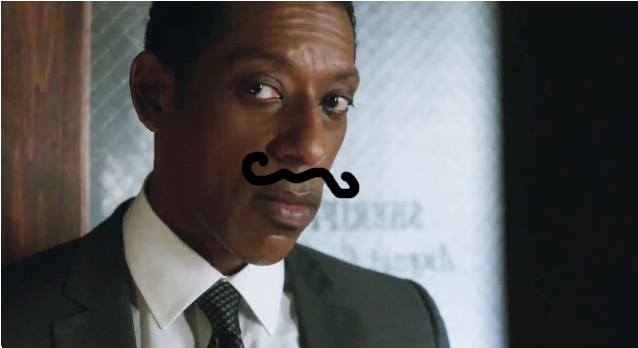 We'll have to wait and see, I guess.
And of course, as the plot thickens with the clues in George Washington's Bible (you know the one), we'll be skillfully incorporating other speculative elements, elements that totally hold together without sounding like someone in a pitch meeting desperately spinning out his premise! Elements filled with strong women characters!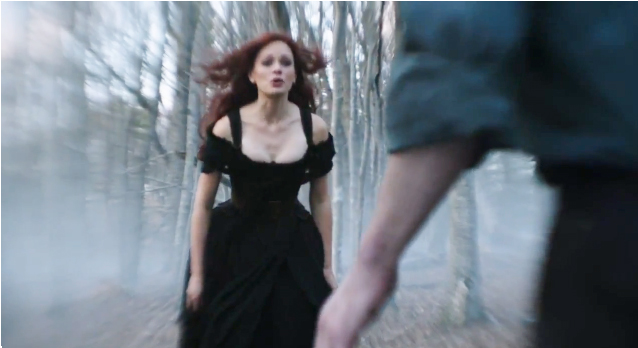 (Occurs under VO about two covens, "representing good and evil." This show knows it might lose you with its completely nonsense premise! It doesn't want to lose you! It will feed you all the thematic and plot help you need, to make sure you tune in to our buxom witch as she leans forward to enhance her urgencies! Wait, where are you going? Have a Starbucks joke, Ichabod's never seen a Starbucks! He probably gets startled by electric light! The Horseman has machine guns! COME BACK.)
However, the people for whom this show really is a gift? Dedicated reenactors who have spent their lives learning how to shove calico down rifle barrels for no payoff - until today. No more shall your glorious face be confined to fuzzy close-ups in History Channel documentaries, George Washington Man! (Now you get fuzzy close-ups on a network upfront.) May you fight valiantly with your fellow featured extras and explosion-operating crew members!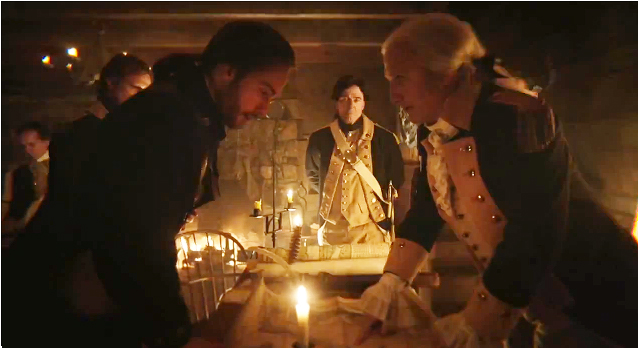 EAGLES FOR EVERYONE.
It looks like a disaster, and Abrams being involved pretty much seals it. However, I've been looking for an accidental comedy, and I'm pretty sure I've found it. See you then, Sleepy Hollow.
(Screencaps can't really do all that historical recreation justice. If you want the full impact of the Starbucks joke (Ichabod's never seen one!), you can see for yourself
here.
)
Parasol Protectorate
series, a sort of steampunkish series with werewolves and vampires thrown in for kicks. I enjoyed the first book. It's a different take on the urban fantasy series, certainly unique, and the writing is solid and smooth. There's also some humor thrown in, so while the atmosphere is dark, befitting that time period and the content of the book, there's some levity and lightness as well. A nice balance.
The basic premise of this book is that Alexia Maccon, wife to Lord Maccon, a werewolf, is "soulless," meaning that she essentially counters the paranormal. So when she touches her husband, he is mortal and his werewolf side is subdued. She can also dissipate ghosts and make vampires mortal as well. But suddenly, there appears to be a force in London with the same powers, covering an entire area of the city. Lord Maccon heads out to investigate, and Alexia does as well. But before they can figure out what's going on, the phenomenon ends, appearing again in Scotland. Both Maccons head off separately to find out what's going on--is it a weapon? a natural occurance?--while confronting Lord Maccon's past in the process.
I enjoyed this book, probably moreso than the first, mostly because the plot here is much more focused. The first book had to introduce us to the world and how it worked; this one just dives right in and it makes the reading smoother. The plot unwinds at an easy pace, and the usual biting humor based on the strict decorum of the time period is fun. We get introduced to a few new and intriguing characters, get to see more of Lord Maccon's pack, and we find out more about Lord Maccon's past.
Overall, a good book. I'd be more enthusiastic, but the plot, while interesting, never really grabbed me in a chokehold and refused to let go. It was entertaining and held my interest, but didn't do much more than that. So in the end, it was a fun read, certainly something I'd recommend--especially for those who are looking for something slightly different in the urban fantasy field--and I'll certainly be reading the next book in the series . . . but it wasn't "OMG you must read this!"
This is Gail Carriger's second book in the
is tonight at 6:30 at Davis High School! I will be there with Tyler Whitesides, J. Scott Savage, Kim Williams-Justesen, Kristyn Crow, Kristen Chandler, and many others. This is a great chance to get a signed copy of The Rose Throne if you are looking for a chance to get one and to come meet me. I am speaking on How to Find Time for Your Dream.
It's strange to realize I've been a manager at Ye Olde Day Job for more than seven months now. One of the most surreal parts so far has been the process of hiring new employees, doing everything from reviewing applications to writing screening questions to conducting job interviews.
In some ways, it reminds me a little of being an editor. Some stories just aren't that well-written. Others might not be the right fit for your project. Then there are those that are good, but are they good enough? And of course, I hate the rejection part…
Having done this a few times now, I wanted to pass along a few observations and suggestions. I hope they're helpful!
Read the Guidelines: When you're submitting a story, the guidelines are a test. If you submit a 10,000 word story to a market with a 4000-word upper limit, you fail. Same thing with a job application. If the application says to include a cover letter and you don't, that's going to cost you. If it asks for a copy of your transcript and you don't include that, you're much less likely to get an interview.
Learn to Write Well: I suspect I'm more critical of people's writing skills than most, but your ability to write complete sentences and paragraphs in your cover letter, to present a clean, grammatically correct resume, these things do make a difference. And whenever possible, ask someone else to review and proofread your material before you send it in.
Research the Employer: This is advice I've heard for years. Having sat on the other side of the table, I finally understand why. Not only do you look more invested if you've taken a few minutes to study the company online before the interview, but it lets you tailor your interview answers to the company's specific goals and needs. It really does make you stand out.
Practice: Interviews make a lot of people nervous, even when they're fully qualified for the job. If you can do practice interviews through your school or a job training program, that will help. If not, get a friend to throw practice questions your way. You can find lots of standard interview questions online.
Make Sure You Understand the Questions: When you're interviewing, make sure you listen to and answer the whole question. If you're nervous, it's easy to get tunnel vision about a particular key word and miss part or all of the question. Wait to hear the entire question, and if you're unclear about anything, ask them to repeat or clarify.
Be Confident in Your Skills, but Don't Lie: Don't be afraid to talk up your strengths and accomplishments. You're there to make yourself look good! But don't lie. It won't end well.
Mirrored from Jim C. Hines.