Well. Instead, I eventually got up, got breakfast, and spent a long time cuddling Maya. It's worked for me so far. In 20 minutes, I'll go wake up MrD and get him ready for school, but in the meantime...

Okay, here's a list of things that have made me happy in the past few days, because honestly, I'm still feeling jittery from that nightmare (oh, how I hate the vivid dreams of pregnancy!), plus I've been pretty stressed-out over my freelance deadline and all our practical house-moving issues, and I really need this reminder right now:

1. Watching MrD in his nursery school's spring show yesterday. Possibly the most adorable sight ever (in my clearly unbiased and objective opinion)! And ohhhh, was I proud of him.

2. Eating gorgeous strawberry-cream cake at my favorite cake-café in town afterwards, with friends, while MrD and his own friends quickly devoured their own cakes and then just played and played together.

3. Knitting - possibly the most relaxing and de-stressing occupation I've ever found (and also the one gesture I can make to appease my frustrated nesting instincts right now, while our house situation is still undecided - I may not know where we're going to live with our new baby, but at least he/she will have a handknitted blanket!) - while watching MrD build enormous structures out of lego or play-dough, at various points over the last few days.

4. Re-reading The Lord of the Rings for the first time in 7 years, and just sinking into it with total delight and wonder all over again at just how good it really is. Re-reading it is a process of re-discovery - oh! I'd forgotten how much I love the writing! - and also pure comfort - because I absorbed this book into my bones as a kid, and almost every scene resonates with memory, for me.

What about you guys? What have been the brightest spots in your week so far?
Oof! I woke up with a horrible start this morning at 5:50, at the climax of yet another vivid, pregnancy-linked nightmare. Needless to say, the sensible thing would have been to go back to sleep until my alarm was due to go off (at 7:45). The second-most sensible thing would have been to get up and Do All the Things! (And with a freelance deadline staring me in the face, believe me, there is plenty of work to be done right now.)
good
. Guess what else happened? We found a new house! We're still waiting to hear final confirmation that all the credit checks, etc., have gone through, but with luck, we should be able to move in exactly a month.
...Which will mean that we're moving when I'm 8 months pregnant. Eep!
Plus
we're moving into a smaller house, so we need to do a massive purge of stuff beforehand (not just books anymore!), not to mention getting the whole house clean and organized for the movers to work with...
But whatever! Sometimes we just need to stop and be happy about what we've got. Right now, I am happy that my pre-submission rewrites for
Low Road
are finally
done
, and we have a good house to move into before the new baby comes. Those are both really big sources of satisfaction and relief! (And please wish the book luck as it flies out into the publishing world!)
Also, about an hour after sending off my rewrite, as a reward for myself, I started reading an e-ARC of Jo Knowles's new book,
Living With Jackie Chan
- and oh, I fell in
love
. It is wonderful. You can
read my full review on Goodreads
, but here's the short version: if you're a fan of Sarah Dessen or just a fan of great characters, heartfelt stories, and a strong narrative voice, you will love this book. It's my favorite of all of Jo's novels so far, which is saying a
lot
.
I gave myself yesterday as a day off, because I needed it after the last, manic two and a half weeks of super-revision. I met a friend for cake at my favorite new cake café in town - tea and apple sponge cake, mmm! Afterwards, I helped MrD make a fun craft project. Then I spent the evening hanging out with more friends at a fun clothes-swap event, laughing and gossiping, eating more cake, drinking (nonalcoholic) apple ginger beer and taking home a sparkly new scarf, a knee-length waterfall cardigan (that luckily falls
around
my massive pregnancy belly!), and a sparkly beaded bag.
This morning, it was time to get serious again. I wrote 3,043 words of my next freelance project, which is due in just two and a half weeks. This weekend, I need to sort and clean the house like a madwoman - and, if I can, write another 2,000 freelance words as well, even though I won't have any long writing sessions to do it in. I am Back to Work, in every possible way...
But it's good to take the time to celebrate. It really is.
Whew! I hit my big rewrite deadline this Wednesday, exactly on time...and it feels
But! At least today I'm finally blogging again, over at Girls Heart Books. This was a
very
heartfelt post I wrote yesterday afternoon, talking about
faking it through the hard parts (of writing AND life)
.
I'd love to read your comments either
there
or here! I miss you guys! I can't wait to get back to a less breathless routine, with more time for blogging and generally hanging out online. Just one more month to go...knock on wood!
The past week has been pretty intense, for one reason or another...and between my rewrite deadline (next week) and my next freelance deadline (in three weeks) - not to mention our house-hunting and, I hope, big move! - the situation may not improve until mid-June.


...and I was filled with the most amazing warmth and a sense of dèja vu. I finally realized why: because when I was his age, my family had a similar children's picture dictionary (or maybe textbook???) of German, and I still remember snuggling up to my mom, learning German from her and the book.

Take it back even further, to the 1920s, and my Croatian-American grandfather (whose family had started out in Austria at some point before moving to Croatia in the 19th century) learned German as his first language from his parents, even though he grew up in Youngstown, Ohio. (Croatian was his second language, only finally followed by English when he started school!)

I remember walking through Vienna for the first time when I was 20, realizing with amazement that I was walking through the same city where my Croatian great-grandfather had lived as a teenager, when he was training to be a tailor. I'm not personally religious, but when I stepped inside the massive, gorgeous Stefansdom cathedral, knowing from family history that my great-grandfather had gone there for Mass (and knowing from music history that Mozart had been married there, too, looooong before that!), I was overwhelmed.

I went to Vienna that first time for a semester-long exchange program when I was in undergrad. Then I went back again for a whole year with a Fulbright scholarship when I was 22, studying music history at the University of Vienna...and I went back to live there for another six months with Patrick when I was 24. Since then, though, I've only been back once, for a week-long research trip, way back when I was working on my PhD thesis about 18th-century Viennese opera. It's been...oh, eight years now, I think, since I've been back? Which is way too long!

It's probably a good thing that I don't have a massive amount of spare money right now...because I am SO tempted to just buy last-minute tickets for me, Patrick and MrD and scoop us all off on a plane to Vienna for a long weekend, flinging aside all responsibilities completely!

Maybe the truth is, I'm just trying to flee my rewrites, which are, y'know, hard work...or maybe all the fantasizing I'm doing about European mini-breaks lately has even more to do with the fact I'm in my third trimester of pregnancy, and it'll be a long time before it's (even this) easy (i.e., not that easy!) to travel again.

But the book I'm revising right now, Low Road, is thematically all about family histories: roots and connections, immigration and transformation...so really, this is all perfect fodder.

And it's nice to be practicing my German again.
This afternoon, MrD found a German picture dictionary, aimed at children, in the pile of books we'd been planning to discard in our Epic Book Purge. He pulled it out, got very excited, and he and I spent the next twenty-some minutes playing with it, teaching him some German words just for fun (even though I was really supposed to be washing dishes for dinner at that point - oh well)...
Lindsay Eland
, who tagged me for the Next Big Thing meme! And thanks so much to everyone who voted (here, on my other blog, on Facebook, or on Twitter!) for which project I should talk about here today.
The truth is, my hope and (hopeful!) expectation is that my next published novel will be
Antonia O'Toole Takes the Low Road to Hollywood
, which should go out on submission later this month - please wish me luck! And you can
read about that book in my last Next Big Thing meme
(posted back in October, before I'd even started the rewrite process). (You can also check out my
Pinterest collage-board
for it!) Ohhh, do I love this book.
But! Since I'd already posted this meme about
Low Road
, the majority voted for me to talk about something new: my current first-draft WIP,
Family Magic
! (I'm about 3/5 of the way through the first draft and hoping - SO hoping! - to finish it before the new baby comes.)
What is the working title of your next book?
Family Magic
! Or, to give it the full title,
The House at the Crossroads, Book One: Family Magic
Where did the idea come from for the book?
I wanted to write a really fun, cozy family novel for kids, the classic kind I've always loved reading - but with lots and lots of magical adventures! (Of course, being me, 3/5 of the way into my "cozy family novel", we've already graduated to magical chases and battles with canal monsters in a magical not-quite-Venice!)
What genre does your book fall under?
MG contemporary fantasy, with lots of humor and adventure.
What actors would you choose to play the part of your characters in a movie rendition?
Aagggh, this one is hard. I honestly don't know that many kid actors right now, and the four main characters range in age from 6 to 14! But I'd love to have Emma Thompson playing the villainess and Judi Dench playing the hob housekeeper, Mrs Jones.
What is the one-sentence synopsis of your book?
It's hard to be the only sibling without magic, especially when you live in a house that's balanced between worlds; but when eleven-year-old Elen Parry's mum disappears through one of the House doors, Elen is determined to do whatever it takes to get Mum back - even if she doesn't have the powers of her impossible fairy sister, Sophie, her frighteningly pragmatic little goblin brother, Oliver, or her hopelessly abstracted older sorceress sister, Seren.
Who is publishing your book?
Someone fabulous, I hope! :) I haven't gotten nearly that far yet.
How long did it take you to write the first draft of the manuscript?
Hahahahaha. We'll see? (I'm HOPING to finish in June, so that would be about 6 months, but scattered between other projects.)
What other books would you compare this story to within your genre?
Well, I love MG family books like Hilary McKay's Casson family series and Jeanne Birdsall's The Penderwicks, but mine includes so much fantasy adventure, I'm not sure how well our books would resemble each other on the shelf! I hope they would have a fun party together, though.
Who or what inspired you to write this book?
Noel Streatfeild, Hilary McKay, Susie Day, and everyone else who's written a book that really perfectly encapsulated "family" to me.
What else about the book might pique the reader's interest?
Comedy! Danger! The most embarrassing first-day-at-a-new-school ever! Plus a house with doors that open into all sorts of different magical worlds...and of course a brand-new family I absolutely love.
And you can
check out my Pinterest board for it here
.
Does anyone else want to play? If so, please consider yourself tagged!
Thanks so much to
BUT! There are cool things I wanted to pass on, and I also wanted to ask for advice.
First, the cool stuff!
1. If you're in the UK, you can finally get my Kat short story "Dueling Magics" free as a
Kindle ebook from Amazon.co.uk
or as a
UK Nook-book
.
(I didn't even know until today that were WERE Nooks in the UK! But they're actually
on sale for £29
right now, which I find...strangely tempting! Alas, I can't see any real reason to get one - after all, I do already have a Kindle! And yet...and yet...what about you guys? Do any of you have a Nook? What do you think of it?)
I am so glad "Dueling Magics" is finally free on the UK sites as well as the US ones! I'd been feeling really guilty about that until now. And of course, everyone else in the world can still find it free in every format on
Smashwords
.
2. In exactly 9 days, my first Kat book will be coming out in France as
Kat, Apprentie magicienne, tome 1
! Just check out the gorgeous cover:
I love it so much - and it makes me desperately wish that I could read French! (Or at least that I could hop the EuroStar over to Paris to visit it in stores later this month!) I can't wait to get my author copies.
And the advice?
I've been tagged to do a "Next Big Thing" post tomorrow. Unfortunately, I belatedly remembered that I already wrote one for
Low Road
(the novel I'm revising right now, which I hope will go out on submission this month) several months ago. Erk! So my question is: do I re-post my
Low Road
blog post from earlier, since so much time has passed? Do I write about
Stolen Magic
instead? Or should I write about
Family Magic
, the WIP I'm 3/5 of the way through first-drafting?
Any votes or other suggestions would be gratefully appreciated. Thank you!
I'm in the middle of intense revision madness right now, which means - as my poor family can attest - that I'm alternately grouchy, weepy, or exhilarated, depending on how the rewrite is going from hour to hour. I'm also going to be even slower than usual about replying to emails, etc., until after I turn in the rewrite (in 2 weeks). (And maybe for a while afterwards, since I'll then be racing towards my next freelance deadline!)
Family Magic
.
Starting on Monday, though, I'll be jumping back into my last WIP,
Low Road
, doing one last (for now!) revision based on my very smart agent's notes, which I got this week...so even as I've been balancing my freelance writing with my
Family Magic
drafting in the last couple of days, I've also been turning over and over different possibilities in my head for how I could make the best possible shifts to characters and plot points in
Low Road
.
It's a lot to keep track of, mentally and creatively...especially since I'm balancing all that work with parenting (and MrD is only at nursery for 2-1/2 hours a day)!
So this blog entry,
Self-Esteem Needs Many Mirrors
, really resonated with me today. Karen talks in the entry about all the different roles she plays in life - and how important they are to her:
This is why it's really important to have other things to do. When I feel bad about my writing, I take comfort in the fact that I know I'm a really good editor. When I've had a frustrating day at the office, I come home and sew. When my brain is too frazzled for anything else, I focus on a single row of knitting. Just one row. All I have to do for the next ten minutes is move some sticks around some wool. Everything else disappears. My baby blanket project has saved my sanity on many a recent tube journey. [...]

There are myriad ways of propping up your self-esteem. Run marathons, bake cakes, write poetry, retrain for a new career, buy a lipstick...get a sewing machine or buy some wool. Just have more than one mirror in the house. If you pour all your sense of self into a single area of your life, that leaves you teetering atop a tall and narrow pillar...
You can
read the full blog entry here
.
Sometimes I feel like the constant switching back-and-forth between writer-me and mom-me (and between the different kinds of writing in my career) might give me whiplash. Sometimes I fantasize about just being one or the other.
On the other hand, every time I've panicked about my writing career in the past four years, I've found balance in the fact that my parenting is just as important a focus in my life. Every time I panic about my parenting, I have writing waiting as my escape - something I can define myself with just as clearly, something that's just
me
and no one else. And my freelance writing not only gives me much-needed financial stability, it's also quite clearly improved all the rest of my writing, helping me stretch different creative muscles in a way that helps in everything I do.
What about you guys? What do you define yourself as nowadays? Is it one thing or many?
The writing life is such a weird balancing act. Right now, I'm working on a freelance project, and since that was my main focus this week, I spent almost every writing session aiming first for my wordcount on that (2,000 words a day), and then I spent whatever remained of my writing time working on my new first-draft WIP,
where ... this summer! Sadly, although we love our house, it's a rented house, and our landlady wants to move back into it herself, which is understandable. Unfortunately, we live in a small town without a lot of rental houses on the market, so house-hunting so far has been...well, let's just say that if I let myself think about it too hard, I will panic!

(Especially when you add in the fact that I'm due to have another baby this summer, too...no. Not thinking about it!)

Luckily, I have something much more immediate to panic about first: getting rid of books.

Ohhhhh, is that a painful concept for me! Not only do I love re-reading books, but again and again, I've gotten rid of books I thought I wouldn't want again, only to end up wanting them after all, a year or two later. Unfortunately, it looks like we may well be moving into a smaller house than the one we've currently got (we were REALLY lucky with this rental!), we already have boxes and boxes of unshelved books beyond all the ones that fill up our bookcases...and equally obviously, I'm not going to stop buying new ones!

So, clearly, Something Must Be Done.

But if you hear any weeping and wailing coming from our side of Wales, you'll know that I'm in the middle of more book purging. (We're trying to get through a box of books per day and dispose of the majority of them. OUCH!)

What about you guys? Are you book hoarders, like me? Or do you pass them on as soon as you've read them? And what books would you NEVER give away, no matter what?
I'm not sure if I've mentioned before that we'll be moving ... sometime ... some
Sara G.
, who won the witch's heart ring! If you could email your address to steph at stephanieburgis dot com,
Emily
and I will get that sent out to you as quickly as possible. (For everyone else: if you didn't win the giveaway but loved the ring, you can find more of them being sold by Emily
on Amazon
.)
And it feels like lovely timing to be participating today in the cover reveal for Emily's own new book cover!
I read
Castles on the Sand
when it first came out last year, and it was a totally compulsive YA read. I devoured the whole thing in one lovely summer afternoon, sitting curled up on a couch in France, and it was just the perfect holiday book, completely absorbing and fun. You can
read my full review here
.
Now Emily's got a new cover for the book - and I really, really like it. So I was thrilled to take part in her cover reveal! (And I can't wait to read the sequel,
Love in Darkness
, when it comes out this summer.)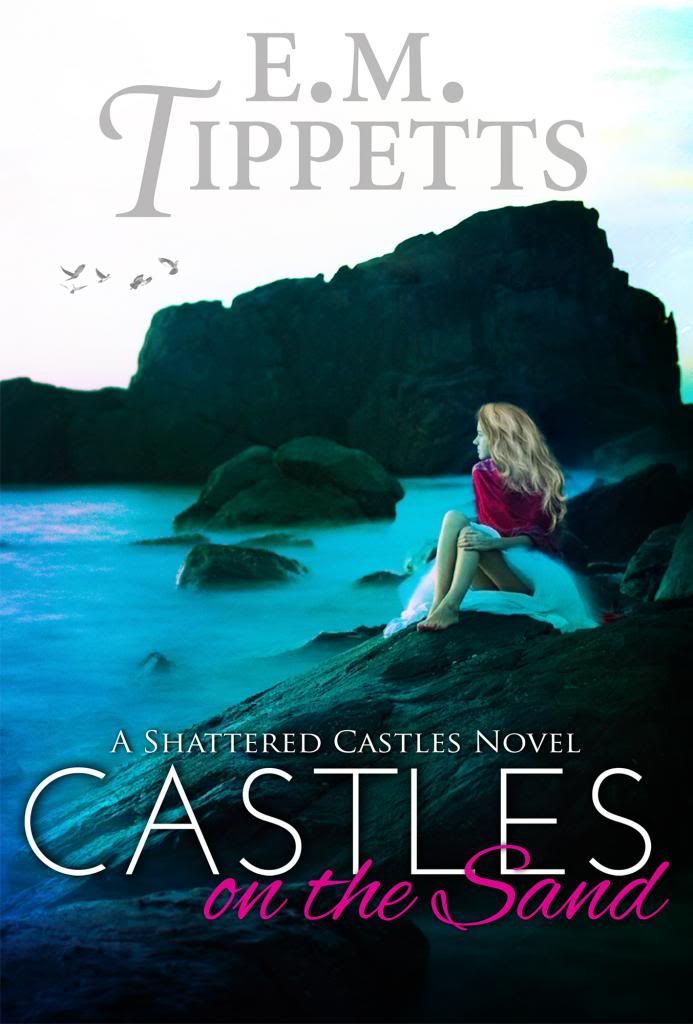 Title: Castles on the Sand
Author: E.M. Tippetts
Released: August 2012
Genre: Contemporary Romance
Age Group: Young Adult
Cover Re-designed by: Okay Creations
Cover reveal organized by: AToMR Tours
Amazon.com | Amazon.co.uk | Barnes and Noble | Kobo
If there's one thing Madison Lukas understands, it's pain. The pain she feels when her mother ignores her completely. The pain her best friend endures as her parents starve her as punishment. The pain of a dangerous boy whose mother has to be carried away by law enforcement on a regular basis.
She gets it. She feels the pain of others as if it were her own.
But when a mysterious man claiming to be her long lost brother appears with promises of relieving her suffering, trusting him could reveal more truths than Madison is ready for. Because the truth can hurt, too.
--
"A fast-paced blend of high-stakes drama and average teenage concerns (sex, appearance, friends), capped with a welcome message of hope." -
Kirkus Review
of
Castles on the Sand
About the Author
Emily Mah Tippetts writes romance under the name E.M. Tippetts and science fiction and fantasy under the name Emily Mah. Originally from New Mexico, she now lives in London with her family. Before she was a published author, she was an attorney who specialized in real estate, contracts, and estate planning, especially literary estate planning.
E.M. Tippetts | Twitter | Facebook
Congratulations to